Receiverships & Partition Matters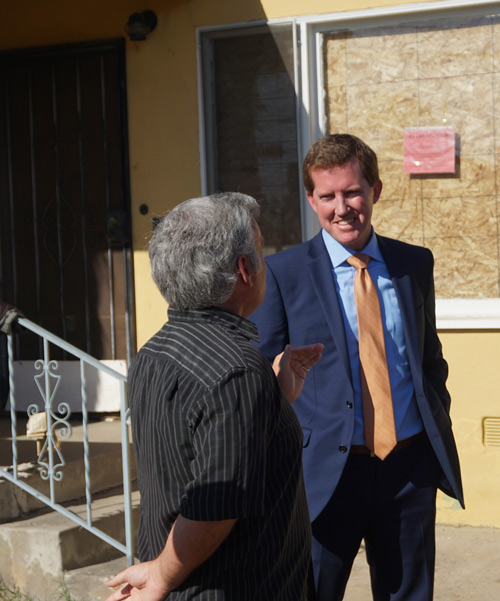 Attorney Richardson "Red" Griswold is appointed by California courts as a Receiver or Partition Referee. He acts as a health and safety receiver, partition referee, rents and profits receiver, post-judgment receiver and tenant habitability receiver. He has been appointed over 90 times by County Superior Courts across the State of California.
Mr. Griswold routinely takes control of dilapidated, abandoned and/or nuisance properties and oversees the management, rehabilitation and/or court-authorized sale of these properties. These properties include, but are not limited to, apartments, houses, motels and commercial buildings.
Most frequently, Mr. Griswold is appointed as a receiver pursuant to Health & Safety Code section 17980.7, et seq. The moving party is typically a municipality who has filed a lawsuit against a property owner for violating pertinent health & safety, housing, building, municipal and/or zoning codes or regulations. The municipality seeks the appointment of a health & safety receiver to take control of the property and oversee its rehabilitation.
Receiverships & Partition Matters
City of Sacramento v. Taylor
(Sacramento County Superior Court Case No. 34-2018-00245258)
Appointed as Receiver to Oversee Rehabilitation and Management of Real Property
(January 2019 – present)
City of Brawley v. Flores
(Imperial County Superior Court Case No. ECU000356)
Appointed as Receiver to Oversee Rehabilitation and Management of Real Property
(January 2019 – present)
Ortanez v. Ortanez
(San Diego County Superior Court Case No. 37-2018-00007329)
Appointed as Partition Referee to Sell Disputed Real Property
(February 2019 – present)
City of Garden Grove v. Rodriguez
(Orange County Superior Court Case No. 30-2018-01022938)
Appointed as Receiver to Oversee Rehabilitation and Management of Real Property
(March 2019 – present)
City of San Marcos v. Pacho
(San Diego County Superior Court Case No. 37-2019-00019234)
Appointed as Receiver to Oversee Rehabilitation and Management of Real Property
(April 2019 – present)
City of Sacramento v. Sutton
(Sacramento County Superior Court Case No. 34-2019-00251333)
Appointed as Receiver to Oversee Rehabilitation and Management of Real Property
(April 2019 – present)
City of Lemon Grove v. Wit Administration, Inc.
(San Diego County Superior Court Case No. 37-2016-00015271)
Appointed as Receiver to Oversee Rehabilitation and Management of Retail Center
(April 2019 – present)
City of Vista v. Estate of Deal
(San Diego County Superior Court Case No. 37-2019-00016348)
Appointed as Receiver to Oversee Rehabilitation and Management of Real Property
(May 2019 – present)
City of San Diego v. Edwards
(San Diego County Superior Court Case No. 37-2019-00029399)
Appointed as Receiver to Oversee Rehabilitation and Management of Multi-Family Property
(July 2019 – present)
City of Banning v. Gateway Business Complex, LLC
(Riverside County Superior Court Case No. RIC1700904)
Appointed as Receiver to Secure and Rehabilitate Distressed Business Park Development
(August 2019 – present)
City of Sacramento v. Kong
(Sacramento County Superior Court Case No. 34-2018-00234968)
Appointed as Receiver to Oversee Rehabilitation and Management of Real Property
(August 2019 – present)
Liberation Management, LLC v. Apollo Satellite Communications, LLC
(San Diego County Superior Court Case No. 37-2015-00009443)
Appointed as Receiver to Monitor and Oversee Business Operations of Ongoing Business in Dispute
(August 2019 – present)
City of San Diego v. Ulm
(San Diego County Superior Court Case No. 37-2018-00058132)
Appointed as Receiver to Oversee Rehabilitation and Management of Real Property
(December 2018 – present)
City of Escondido v. Lawrence
(San Diego County Superior Court Case No. 37-2018-00043765)
Appointed as Receiver to Oversee Rehabilitation and Management of Real Property
(November 2018 – present)
City of San Diego v. Kulhanek
(San Diego County Superior Court Case No. 37-2018-00044764)
Appointed as Receiver to Oversee Rehabilitation and Management of Real Property
(November 2018 – present)
City of Escondido v. Karp
(San Diego County Superior Court Case No. 37-2018-00041001)
Appointed as Receiver to Oversee Rehabilitation and Management of Real Property
(October 2018 – present)
City of San Diego v. House
(San Diego County Superior Court Case No. 37-2018-00034064)
Appointed as Receiver to Oversee Rehabilitation and Management of Real Property
(July 2018 – present)
City of San Marcos v. San Marcos Collective
(San Diego County Superior Court Case No. 37-2017-00027107)
Appointed as Receiver to Take Control of and Shut Down an Illegal Marijuana Dispensary
(July 2018 – present)
County of Santa Clara v. Gullicksen
(Santa Clara County Superior Court Case No. 1-09-CV-141882)
Appointed as Receiver to Oversee Rehabilitation and Management of Real Property
(July 2018 – present)
City of Upland v. Bean
(San Bernardino County Superior Court Case No. CIVDS1808053)
Appointed as Receiver to Oversee Rehabilitation and Management of Real Property
(June 2018 – present)
City of Garden Grove v. Obando
(Orange County Superior Court Case No. 30-2018-00985627)
Appointed as Receiver to Oversee Rehabilitation and Management of Real Property
(May 2018 – present)
Vailu-u v. Via
(Orange County Superior Court Case No. 30-2017-00926981)
Appointed as Partition Referee to Sell Disputed Real Property
(May 2018 – present)
City of Brawley v. Caldeman
(Imperial County Superior Court Case No. ECU09985)
Appointed as Receiver to Oversee Rehabilitation and Management of Real Property
(May 2018 – present)
City of San Diego v. Sanders
(San Diego County Superior Court Case No. 37-2018-00007424)
Appointed as Receiver to Oversee Rehabilitation and Management of Real Property
(February 2018 – present)
City of Fontana v. Rodriguez
(San Bernardino County Superior Court Case No. CIVDS1708435)
Appointed as Receiver to Oversee Rehabilitation and Management of Real Property
(February 2018 – present)
Salonsaari v. Proctor
(Orange County Superior Court Case No. 30-2017-00946446)
Appointed as Partition Referee to Sell Disputed Real Property
(February 2018 – present)
Persson v. Childs
(San Diego County Superior Court Case No. 37-2016-00001800)
Appointed as Partition Referee to Sell Disputed Real Property
(February 2018 – present)
Alvarez v. Montemayor
(San Diego County Superior Court Case No. 37-2017-00031374)
Appointed as Partition Referee to Sell Disputed Real Property
(January 2018 – present)
City of San Diego v. Iatridis
(San Diego County Superior Court Case No. 37-2017-00045079)
Appointed as Receiver to Oversee Rehabilitation and Management of Real Property
(December 2017 – present)
City of Fontana v. Choi
(San Bernardino County Superior Court Case No. CIVDS1717424)
Appointed as Receiver to Oversee Rehabilitation and Management of Two Substandard Single-Family Properties
(December 2017 – present)
All v. Theodore
(San Diego County Superior Court Case No. 37-2015-00020127)
Appointed as Partition Referee to Sell Disputed Real Property
(October 2017 – present)
City of Banning v. Zukaza, LLC
(Riverside County Superior Court Case No. RIC1700904)
Appointed as Receiver to Secure and Sell Abandoned Business Park Development
(October 2017 – present)
City of Rancho Cucamonga v. Pestel
(San Bernardino County Superior Court Case No. CIVDS1709061)
Appointed as Receiver to Oversee Rehabilitation and Management of Real Property
(September 2017 – present)
City of Chula Vista v. Green Lady
(San Diego County Superior Court Case No. 37-2016-00006706)
Appointed as Receiver to Take Control of and Shut Down an Illegal Marijuana Dispensary
(September 2017 – present)
City of Garden Grove v. Tamura
(Orange County Superior Court Case No. 30-2017-00916100)
Appointed as Receiver to Oversee Rehabilitation and Management of Real Property
(August 2017 – present)
City of Riverside v. Vanowen Holdings, LLC
(Riverside County Superior Court Case No. RIC1613114)
Appointed as Receiver to Oversee Development of Partially-Completed 113-unit Apartment/Assisted-Living Property
(August 2017 – presently on appeal)
City of San Diego v. Hoffman
(San Diego County Superior Court Case No. 37-2017-00021581)
Appointed as Receiver to Oversee Rehabilitation and Management of Real Property
(July 2017 – present)
Ouren v. Trites
(San Diego County Superior Court Case No. 37-2016-00022858)
Appointed as Partition Referee to Sell Disputed Real Property and Time-Share Property
(June 2017 – present)
City of San Diego v. Sikking
(San Diego County Superior Court Case No. 37-2017-00016222)
Appointed as Receiver to Oversee Rehabilitation and Management of Real Property
(May 2017 – present)
City of Fontana v. Cantoria
(San Bernardino County Superior Court Case No. CIVDS1619631)
Appointed as Receiver to Oversee Rehabilitation and Management of Real Property
(May 2017 – present)
City of Fontana v. Hamel
(San Bernardino County Superior Court Case No. CIVDS1619658)
Appointed as Receiver to Oversee Rehabilitation and Management of Real Property
(March 2017 – present)
City of Tehachapi v. Price
(Kern County Superior Court Case No. BCV-16-102193)
Appointed as Receiver to Oversee Rehabilitation and Management of Real Property
(December 2016 – March 2018)
City of Tehachapi v. Razza
(Kern County Superior Court Case No. BCV-16-101921)
Appointed as Receiver to Oversee Rehabilitation and Management of Real Property
(December 2016 – February 2018)
City of Coachella v. Gonzalez
(Riverside County Superior Court Case No. PSC1602109)
Appointed as Receiver to Oversee Rehabilitation and Management of Real Property
(November 2016 – April 2018)
City of San Diego v. Espinoza
(San Diego County Superior Court Case No. 30-2016-00036540)
Appointed as Receiver to Oversee Rehabilitation and Management of Real Property
(November 2016)
City of Coachella v. Ochoa
(Riverside County Superior Court Case No. PSC1604517)
Appointed as Receiver to Oversee Rehabilitation and Management of Real Property
(November 2016)
City of Solana Beach v. Fuess
(San Diego County Superior Court Case No. 37-2016-00001673)
Appointed as Receiver to Oversee Rehabilitation and Management of Real Property
(October 2016)
Stokes v. LaMotte
(Orange County Superior Court Case No. 30-2016-00841169)
Appointed as Partition Referee to Sell Real Property in Dispute
(September 2016)
Meek-Barros, LLC v. Adams-Garbiras Developers, LLC
(San Diego County Superior Court Case No. 37-2016-00011529)
Appointed as Receiver to Oversee/Develop/Liquidate Partially-Completed 22-Home Residential Development Due to Developer Partnership Dispute
(August 2016)
Oceanside Community Assoc. v. Altholz
(San Diego County Superior Court Case No. 37-2016-00022136)
Appointed as Rents & Profits Receiver to Oversee Management of Real Property Pending Foreclosure
(July 2016)
City of San Diego v. Parry
(San Diego County Superior Court Case No. 37-2016-00020392)
Appointed as Receiver to Oversee Rehabilitation and Management of Real Property
(July 2016)
Brown v. Brown
(San Diego County Superior Court Case No. 37-2016-00003545)
Appointed as Partition Referee to Sell Real Property in Dispute
(June 2016)
Harrow v. Harrow
(Los Angeles County Superior Court Case No. BC593497)
Appointed as Partition Referee to Sell Property in Dispute (Apartment Building & Unimproved Land)
(May 2016)
City of Garden Grove v. Kuskie
(Orange County Superior Court Case No. 30-2015-00823918)
Appointed as Receiver to Oversee Rehabilitation and Management of Real Property
(May 2016)
City of San Diego v. Flick
(San Diego County Superior Court Case No. 37-2016-00007929)
Appointed as Receiver to Oversee Rehabilitation and Management of Real Property
(April 2016)
City of Redding v. Shree Shiva, LLC
(Shasta County Superior Court Case No. 15-183558)
Appointed as Receiver to Oversee Rehabilitation and Management of 59-unit Motel
(March 2016)
City of San Diego v. Castro
(San Diego County Superior Court Case No. 37-2015-00035395)
Appointed as Receiver to Oversee Rehabilitation and Management of Real Property
(December 2015)
City of Garden Grove v. Lee
(Orange County Superior Court Case No. 30-2015-00816659)
Appointed as Receiver to Oversee Rehabilitation and Management of Real Property
(November 2015)
City of Fullerton v. Beze
(Orange County Superior Court Case No. 30-2015-00810361)
Appointed as Receiver to Oversee Rehabilitation and Management of Real Property
(October 2015)
Nguyen v. Nguyen
(San Diego County Superior Court Case No. 37-2014-00035089)
Appointed as Partition Referee to Sell Property in Dispute
(August 2015)
City of El Centro v. Lewis
(Imperial County Superior Court Case No. ECU08683)
Appointed as Receiver to Oversee Rehabilitation and Management of Apartment Building
(June 2015)
Schussler v. McAbee
(San Diego County Superior Court Case No. 37-2014-00022456)
Appointed as Partition Referee to Sell Property in Dispute
(June 2015)
City of Garden Grove v. Weber
(Orange County Superior Court Case No. 30-2015-00788658)
Appointed as Receiver to Oversee Rehabilitation and Management of Real Property
(June 2015)
City of Costa Mesa v. Leong
(Orange County Superior Court Case No. 30-2015-00779709)
Appointed as Receiver to Oversee Rehabilitation and Management of Real Property
(March 2015)
City of Whittier v. Hubert
(Los Angeles County Superior Court Case No. VS026906)
Appointed as Receiver to Oversee Rehabilitation and Management of Real Property
(March 2015)
City of Whittier v. Veronin
(Los Angeles County Superior Court Case No. VS026645)
Appointed as Receiver to Oversee Rehabilitation and Management of Real Property
(February 2015)
City of Los Altos v. Schwafel
(Santa Clara County Superior Court Case No. 114CV262000)
Appointed as Receiver to Oversee Rehabilitation and Management of Real Property
(February 2015)
City of El Centro v. Mercado
(Imperial County Superior Court Case No. ECU08474)
Appointed as Receiver to Oversee Rehabilitation and Management of Real Property
(February 2015)
City of Highland v. Wolfe
(San Bernardino County Superior Court Case No. CIVDS1313867)
Appointed as Receiver to Oversee Rehabilitation and Management of Real Property
(January 2015)
City of Willows v. Fulton
(Glenn County Superior Court Case No. 13CV01227)
Appointed as Receiver to Oversee Rehabilitation and Management of Real Property
(October 2014)
City of Willows v. Gregory
(Glenn County Superior Court Case No. 13CV01226)
Appointed as Receiver to Oversee Rehabilitation and Management of Real Property
(October 2014)
City of Willows v. Little
(Glenn County Superior Court Case No. 13CV01225)
Appointed as Receiver to Oversee Rehabilitation and Management of Real Property
(October 2014)
City of Fullerton v. Milton
(Orange County Superior Court Case No. 30-2014-00725920)
Appointed as Receiver to Oversee Rehabilitation and Management of Real Property
(September 2014)
City of Sunnyvale v. Stersky
(Santa Clara County Superior Court Case No. 113CV252957)
Appointed as Receiver to Oversee Rehabilitation and Management of Real Property
(September 2014)
Marquez v. Bonilla
(Riverside County Superior Court Case No. RIC1311808)
Appointed as Partition Referee to Sell Property in Dispute
(September 2014)
Vi v. Vi
(Orange County Superior Court Case No. 30-2013-00690185)
Appointed as Partition Referee to Sell Property in Dispute
(August 2014)
City of Lakewood v. Atwater
(Los Angeles County Superior Court Case No. VS025999)
Appointed as Receiver to Oversee Rehabilitation and Management of Real Property
(August 2014)
City of South Pasadena v. Wang
(Los Angeles County Superior Court Case No. ES017876)
Appointed as Receiver to Oversee Rehabilitation and Management of Real Property
(July 2014)
City of Irvine v. Sears
(Orange County Superior Court Case No. 30-2014-00719358)
Appointed as Receiver to Oversee Rehabilitation and Management of Real Property
(May 2014)
Young v. Sharts
(San Diego Superior Court Case No. 37-2010-00054526)
Appointed as Post-Judgment Receiver related to Judgment Debtor's Intellectual Property
(April 2014)
Logan Mortgage, Inc. v. Liosis Enterprises, Inc.
(Los Angeles Superior Court Case No. EC062248)
Acted as Assistant Receiver in Rents & Profits Receivership for 14-unit Commercial Building
(March 2014)
City of La Habra v. Hastie
(Orange County Superior Court Case No. 30-2014-00707861)
Appointed as Receiver to Oversee Rehabilitation and Management of Real Property
(March 2014)
City of Buena Park v. Nguyen
(Orange County Superior Court Case No. 30-2014-00690775)
Appointed as Receiver to Oversee Rehabilitation and Management of Real Property
(February 2014)
Jenison v. Jenison
(Orange County Superior Court Case No. 30-2013-00658250)
Appointed as Partition Referee to Sell Property in Dispute
(November 2013)City of La Habra v. Cortez
(Orange County Superior Court Case No. 2013-00662861-CU-PT-CJC)
Appointed as Receiver to Oversee Rehabilitation and Management of Real Property
(August 2013)City of Whittier v. Verdusco
(Los Angeles County Superior Court Case No. VS024669)
Appointed as Receiver to Oversee Rehabilitation and Management of Real Property
(June 2013)City of Westminster v. Mederios
(Orange County Superior Court Case No. 30-2012-00603405)
Appointed as Receiver to Rehabilitate and Sell Real Property
(November 2012)
City of South Pasadena v. Alari, et al.
(Los Angeles County Superior Court Case No. GS014444)
Appointed as Receiver to Oversee Rehabilitation of Real Property
(August 2012)
City of La Habra v. O'Connor
(Orange County Superior Court Case No. 30-2011-00526776)
Appointed as Receiver to Oversee Management and Rehabilitation of Apartment Building
(July 2012)
City of La Habra v. St. Clair
(Orange County Superior Court Case No. 30-2010-00399324)
Appointed as Receiver to Oversee Rehabilitation of Real Property
(September 2010)
City of Westminster v. Falzon
(Orange County Superior Court Case No. 30-2010-00382978)
Appointed as Receiver to Oversee Rehabilitation of Real Property
(September 2010)